I will review the MSI B350M Gaming Pro Bios and Motherboard specifications in this article. The MSI B350M Gaming Pro motherboard supports AMD's 1st and 2nd APU-based processors. AMD released two APU for Vega Graphics that are compatible with the existing B350 and X370 motherboards through merely a firmware update. This article will discuss the MSI b350m bios, Bios key, software support, and maximum RAM support capabilities.
MSI B350M Gaming Pro Bios
MSI has released AM4 motherboards with the Click BIOS 5 UEFI BIOS on each. The overall design consists of a red and black color contrasted theme with white text similar to a gaming theme in its entirety. It has a well-formatted interface with an easy-to-navigate splash screen that opens to an advanced BIOS screen that you can switch between by pressing the F7 key. Additionally, the BIOS responds rapidly fast, but sometimes it stutters a bit while taking screenshots for the gallery.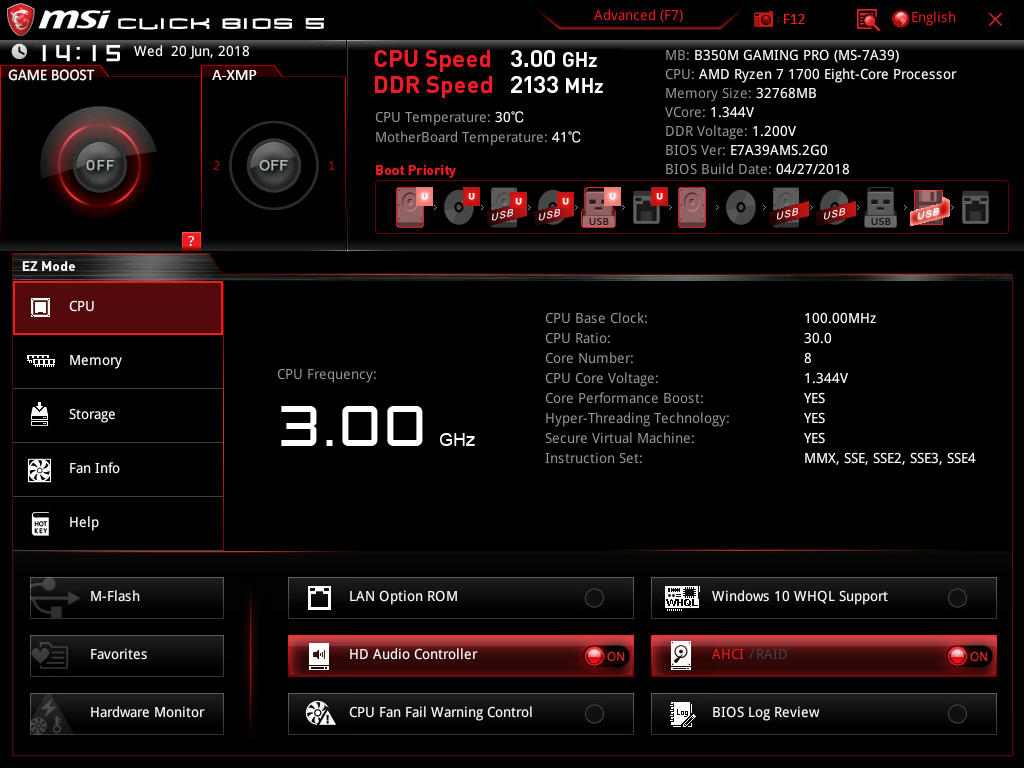 You can find a lot of information related to the installed processor, current-voltage settings, and bios splash screen. Using the drop-down menus to the left, users can choose between CPU, memory, storage, and fan displays. Users can enable Game Boost at the top of the screen which will boost the CPU core speed and voltage depending on the model of the Ryzen processor installed. Using AMD's Game Boost feature, our Ryzen 1700 applies a 400 MHz boost, disables AMD's Cool'n'Quiet, ramps up CPU fan speed, and is set to 1.45 V.
The bottom of the window offers options to enable or disable the HD Audio controller, follow the menus for switching between the AHCI flasher mode and the RAID mode, and even access the hardware monitor. XMP 2.0 memory profiles are also enabled by the button next to the Game Boost switch and on the right of this, you can change the Boot Priority for installed storage drives in the BIOS. The panel on top remains the same through the BIOS, despite switching between Basic and Advanced modes.
Download MSI B350M Gaming Pro Bios Drivers:
To download the MSI B450M Gaming Pro Bios then you should visit this link. It will take you to the official ***MSI website's ***download page from where you can easily download the MSI b350m gaming pro bios update.
MSI B350M Gaming Pro Bios Key
The MSI B350 Gaming Pro Bios controls the boot process when the computer boots up. The POST phase tests the power, memory, CPU, and any other attached devices to the system, which is also known as the Power On Self Test phase. Afterward, the BIOS gives control back to your operating system.
You have to restart your computer first to enter the MSI B350M Gaming Pro Bios, then press the delete or F7 key to access its BIOS.
MSI B350M Gaming Pro Specifications
Here are the specifications of MSI's B350M Gaming Pro:
| | |
| --- | --- |
| CPU SUPPORT | Ryzen 7 (Maximum) |
| SOCKET | AM4 Socket |
| CHIPSET | AMD® B350 Chipset |
| DDR4 MEMORY | 1866/ 2133/ 2400/ 2667(OC)/ 2933(OC)/ 3200(OC)+ MHz |
| MEMORY CHANNEL | DUAL |
| DIMM SLOTS | 2 DIMM SLOTS |
| MAX MEMORY SUPPORT | 64 |
| PCI-E X16 | 1 (Max) |
| PCI-E GEN | Gen3 |
| PCI-E X1 | 2 (Max) |
| SATAIII | 4 (Max) |
| M.2 SLOT | 1 |
| LAN | 0/1/10 |
| USB 3.1 PORTS | 6 (Maximum) |
| USB 2.0 PORTS | 6 (Maximum) |
| AUDIO PORTS (REAR) | 3 |
| DVI | 1 |
| VGA | 1 |
| HDMI | 1 |
| OPERATING SYSTEM | Windows 10 64-bit Support for Windows 7 64-bit To support Windows® 7 64-bit support |
MSI B350M Gaming Pro Ram Compatibility:
The MSI B450M Support DDR4 Memory of 1866/ 2133/ 2400/ 2667(OC)/ 2933(OC)/ 3200(OC)+ MHz maximum.
MSI B350M Gaming Pro Overview by MSI
The following is an overview of the MSI b350M gaming pro motherboard from their own website.
A GAMERS' BIOS – MSI B350M
Our BIOS includes all the latest options and is easy to use. When gaming, you can make use of the extensive features to fine-tune your system to deliver reliable maximum performance.
SOUND THAT PULLS YOU INTO THE GAME – MSI B350M Audio
Experience the most immersive sound when gaming. The use of premium quality audio components enables MSI Audio Boost to deliver the best possible sound quality. It allows you to experience breathtaking, game-changing sound to create the most thrilling gameplay.
MAXIMIZE YOUR USB DEVICE PERFORMANCE – B350M USB
Faster than ever before, you can transfer your favorite games, music, and movies over USB. MSI provides a variety of options for connecting and boosting your USB 3.1 devices to deliver 5Gbps transfer speeds.
BUILT ON EVERLASTING QUALITY – MSI B350M Quality
The latest technological innovations are integrated into only the finest quality components to deliver the best possible gaming and professional experience. A high-performance, high-reliability motherboard is ensured by rigorous testing under extreme conditions.
STAY COOL WHILE GAMING – MSI B350M Cooling
For reliable performance, your PC must be cooled. To keep your system cool in any way you like, we have included enough fan headers with full control.
MSI B350M Gaming Pro Price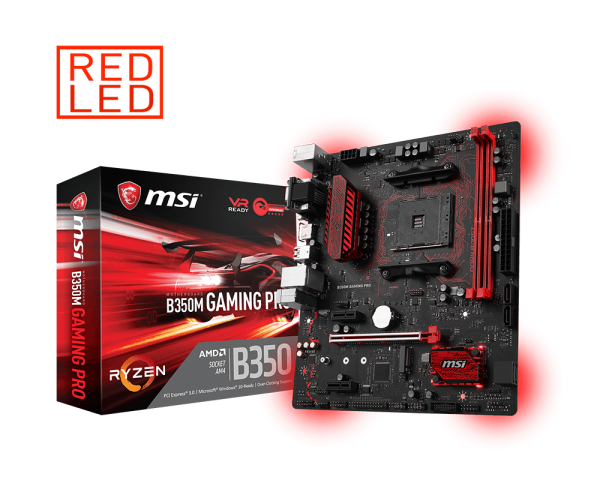 MSI's B450M Gaming Pro is an affordable motherboard. It was released for gamers who want to buy a gaming motherboard on a limited low budget. This motherboard is available for around 80-90$ from online stores or local stores. You can buy this motherboard from Newegg and Aliexpress and many online stores.
Final Words
Thanks to its wide range of GPU outputs, the MSI B350M Gaming Pro is an extremely value-friendly motherboard with a plethora of features. It's also ideal for an APU like the Raven Ridge APUs. The EZ Debug LEDs and the hidden OC header are really nice features from MSI. My CPU LED stayed red during the first few boots, and I realized I had to update the BIOS.
It is necessary to update the BIOS on a motherboard unless it is clearly marked that it supports 2000-series processors. AMD will lend you a CPU to flash the BIOS which is a good thing. Additionally, the motherboard has a beefy SoC VRM, with two massive power stages, each composed of double the number of MOSFETs, so it should be easy for it to overclock the GPU. The B350M Gaming Pro motherboard is a great choice for anyone looking for an affordable, solid motherboard for their Raven Ridge APU.